Sales of Limente products
The Limente products are easy to install entireties, with which you can build a well-functioning light as well as add the necessary controls and plugs. Limente-lights can be purchased from well-equipped hardware stores, web shops and stores specialized in building and kitchen interior.
We have created the MyLimente function in order to ease the selecting of the desired products. Add the products that interests you to your own personal brochure by using this tool. You can easily add products by tapping the "Add to brochure" button.
In order to access the MyLimente function you have to be logged in on our website. After you logged in, you can return to your brochure that you have created as well as change/delete/add products to it. The brochure can also be printed or sent or shared to a friend or to a Limente retailer.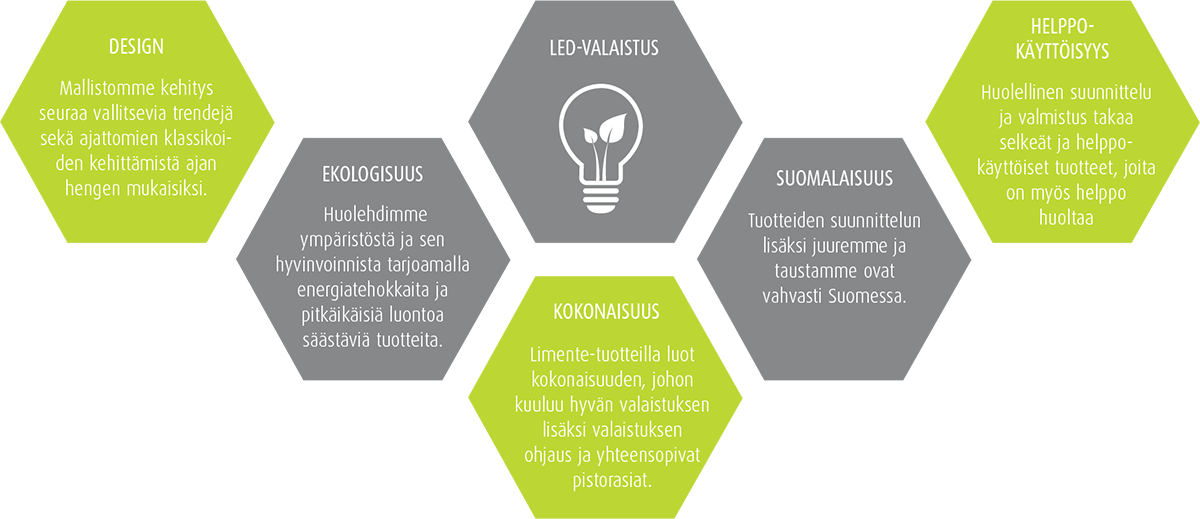 High quality LIMENTE products can be identified from:

Quick delivery
Excellent price-quality ratio
Responsible operations
Certified Environment- ISO 14001 and Quality-certifications ISO 9001

Collection:

Designed in Finland with a Scandinavian approach
Includes solutions to lightning, plugs and light control
A versatile wireless light control system
Plugs with integrated speakers, USB outlets and light switches
A very versatile collection of led lights for kitchens and bathrooms