Luminous intensity
Lux is the unit of illuminance and is an indication of how much light and luminous flux is spread over an area. Luminous intensity is used to describe how good the lighting conditions in a particular space are. The value obtained is related to the luminous flux, the optical properties of the light fixture and its distance from the illuminated surface. The luminous intensity indicates how well a kitchen workspace is lit at worktop level.
In order to make choosing the right light fixture easier, we've provided recommended installation distances for light fixtures designed to be placed in a kitchen workspace. The distances are listed on the product page of each light fixture under "General Information" and are based on both the results of various measurements and the installation of the light fixtures in a test space. However, please note that the human eye is not able to directly perceive the luminous intensity, as only light reflected from a surface is visible. Thus, the surface to be illuminated influences the need for light substantially.
In addition, the need for light increases with age and decreasing vision. Roughly speaking, a person over 50 years old needs twice as much light than a young person. In case the surface to be illuminated does not reflect light properly or your vision is decreased, you can either place the light fixtures closer to each other than recommended or choose more efficient light fixtures.
The table below presents indicative values for luminous intensity of different surfaces. The values can help you determine the correct amount of LUX for your home. In practice, the amount of light you need is affected by several different factors, such as age, vision, etc.
Luminous intensity and illumination pattern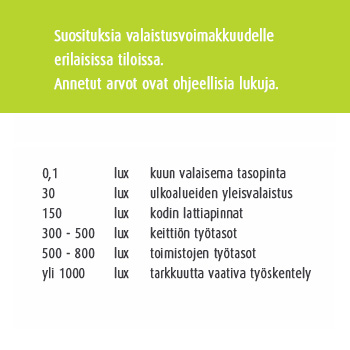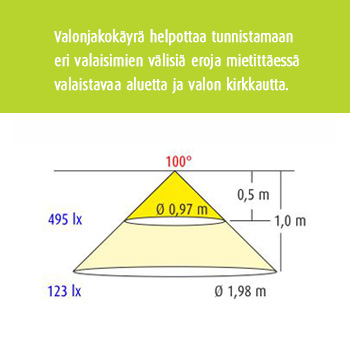 Almost every LIMENTE light fixture has a figure representing the luminous intensity distribution curve.
What to gather from the figure?
100° indicates the beam angle of light. When light fixtures are installed in a kitchen workspace about 50cm from the work top, the beam angle should be more than 90 degrees if you want light to reach the full depth of the work top.
495 lx indicates the luminous intensity at the center of the light at a distance of 50cm from the light source (the distance is common in kitchen workspaces. A good value is considered to be 300-500 lx). 123 lx indicates the luminous intensity at the center of the light at a distance of 1m from the light source.
Ø 0,97m indicates the area in which the luminous intensity is at least half of the luminous intensity measured at the center (495 lx). Correspondingly, Ø 1,98m indicates the area in which the luminous intensity is at least half of the luminous intensity measured at the center (123 lx)