Energy efficiency
The energy label aims to enable you to give preference to light fixtures that use low-energy light bulbs.

Energy labels are mandatory on lighting products if they are to be placed on the market in the European Union countries. Placing on the market refers to a product, such as a light fixture, being made available on the market for the first time. Light fixtures already placed on the market are not given a new energy label, as light fixtures already on the market in the EU can be sold as such. However, light fixtures or lamps and light bulbs without an energy label cannot be imported or manufactured in the EU from 2014 onwards. The concept of placing on the market refers to a single light fixture, lamp or light bulb and not to a model, regardless of whether the product is manufactured as a single unit or as mass production.
Package labels / energy label
The energy label indicates the following properties:
energy efficiency class (A++ - E)
energy consumption in kWh per 1 000 hours
The energy label is not edentical in all light fixture
The appearance of the label depends on the kind of light bulbs used in the light fixture, whether they can be replaced, the energy efficiency class of the light bulbs used and whether light bulbs are included in the package. The energy label of light fixtures can be either vertical or horizontal.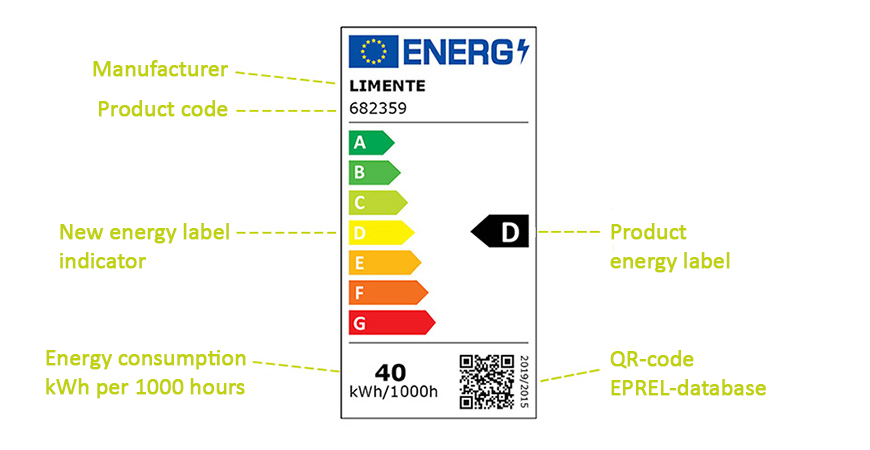 WHY HAS THE CLASSIFICATION BEEN CHANGED?
The previous energy classification no longer met current standards. In that, a large part of the lamps belonged to class A and many to class A+++. Thus, it was difficult to compare the energy efficiency of the lamps. The classes A+++ have been removed from the new classification and the classification is much stricter anyway. At first, there will be no products in the upper classes, and especially in class A, and that gives an even better opportunity for product development.
WHAT IS THE BENEFIT OF CHANGING THE ENERGY CLASSIFICATION FOR THE CONSUMER?
When considering a purchase, the consumer can compare the energy label categories of the packages, the differences of which will be better highlighted with the new classification. It is also good to note that the previous A-class products have not deteriorated, but have moved down a new scale. In this way, the energy categories of old and future new products are more clearly displayed.
Other package labels
Other mandatory package labeling includes:
light output in lumen (lm)
power in watts (W)
lifespan in hours
color temperature (kelvin = K) and color rendering CRI (Ra)
the number of times the bulb can be switched on or off
the capacity of the bulb to work with a dimmer
See below for an example of the packaging label of LIMENTE LED-LENO 19 light fixture.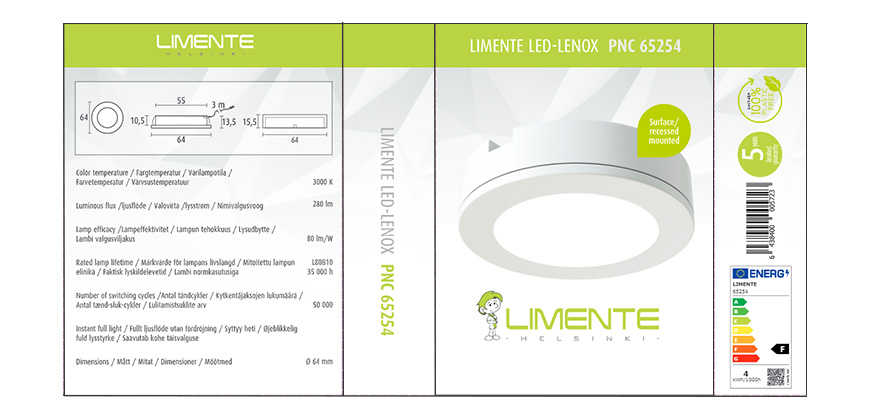 Pay attention to following points when choosing a quality LED light fixture
The energy efficiency class should be at least A (indicates low energy consumption, which means lower electricity bills)
Lifespan should be at least 30 000 hours
The number of times the bulb can be turned on or off is directly proportional to the lifespan. A bulb that's labeled for a 25,000-hour lifespan should withstand at least 25,000 times of switching the bulb on or off. In case the bulb is switched on and off frequently, it should withstand 50,000 times.
The color of light should be compatible with your own wishes and needs. The color temperature of about 4,000 Kelvin (K) closely resembles natural white light.
Color rendering, or Ra index, should be of at least 80