Dimming
The possibility to dim lighting in your home increases the comfort of lighting. It's advisable to always design lighting to be more efficient than you might have originally thought. With a dimmer, you can adjust the amount of light from bright working light to evening ambience, making lighting versatile and easy to adjust.
Each of us has certainly been in a situation where more light was needed or the amount of light needed to be reduced. Making decisions beforehand regarding the amount of light can be difficult simply because of all the different uses of a space. A dimmer increases the usage possibilities of a single light and makes the lighting system perfectly functional. The amount of light can be adjusted anytime from bright to completely dim to suit your needs.
Dimming is ideal for indirect light sources. Indirect light is gentle and creates ambience in itself, but dimming makes the light perfectly suited to any situation!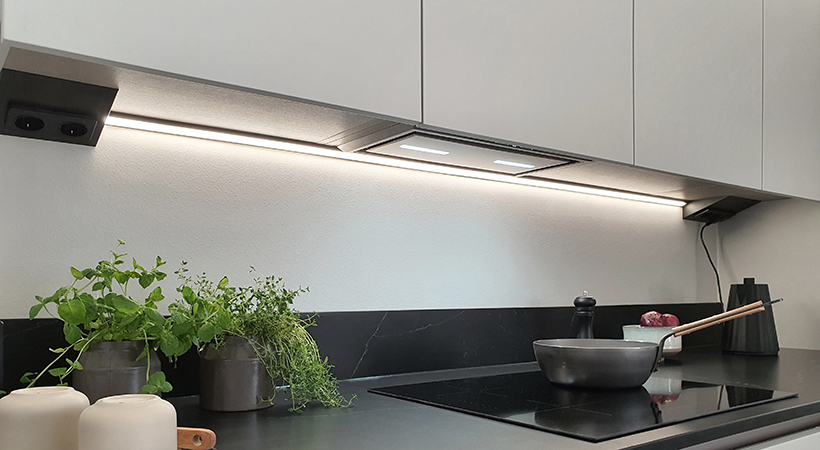 How to create dimmable lighting:
Most LIMENTE light fixtures can be dimmed with LIMENTE SMART products or compatible TRIAC dimmers. Use LIMENTE SMART 350 lighting control system (24 V) > for dimming. Set includes a dimmer.
At its simplest, all you need to do is place a dimmer between the power supply and the light fixture, and attach the wireless light switch on the wall without any wiring. You'll have a functional and stylish lighting control with minimal effort! The wireless light switch automatically recognizes the dimmer and provides easy control of the lighting. The lights turn on and off with a short press on the switch. A long press dims or brightens the light.
1. Choose the light fixtures and switches

2. Select the appropriate dimmer for the light fixtures

3. When necessary, pair the light switch and the light fixture

4. Press the light switch briefly to turn on the light

5. Press and hold to adjust the light to a desired light intensity
In LIMENTE's selection you can find ready-made sets for lighting control. Sets are available for every need, from intermediate space lighting to ceiling lamps for all areas of the home. The sets contain all the necessary parts to control the LIMENTE lighting. Choose the option that suits you from a wide selection of light control sets.
The dimmer can also be ordered separately and installed later on between the light fixture and the light switch. Separate dimmers available are LIMENTE SMART 520 (Classic), LIMENTE SMART 540 (Luxus) and LIMENTE SMART 560 CCT (Luxus) and Limente Smart 580 (240 V, pendants).
Where to use dimming
Kitchen
An efficient and good working light in the kitchen makes everyday chores easier and more comfortable. However, the kitchen is often used as an extension of the living room, so efficient working light isn't always necessary. A dimmer for kitchen lighting makes it possible to adjust the amount of light to suit the situation. During the day, the light can be a bright working light and, in the evening, it can be dimmed. You can increase the versatility of lighting in your home with dimmability.
Great choices for dimmable kitchen light fixtures include LIMENTE LED-PROFIL LUX, LIMENTE LED-LINEA, LIMENTE LED-FLAT and LIMENTE LED-LENO. Of course, it's possible to dim all other 24 V LIMENTE light fixtures, as well.

Bathroom
The bathroom is a place where efficient and effective light is needed to apply makeup and do your morning activities. On the other hand, the bathroom is also a place for relaxation whether you're soaking in a hot bath or taking a calming shower under a rain shower. At times, a bright light is not desirable. Dimming creates an air of elegance to your bathroom lighting and completes your lighting design to suit both morning and evening routines. A suitable light fixture for general lighting for bathroom ceiling is, for example, LIMENTE LED-DSS 18. A dimmable indirect light can be created by installing LIMENTE LED-RIBBON behind the mirror or on the ceiling boundary.
Living room
Lighting in the living room is often designed to be beautiful and discreet. Different types of design light fixtures are also very popular but they often don't have enough luminous intensity and, most of the time, they aren't meant to be used as the only light source in the room but rather require additional light sources for optimal lighting. Indirect light sources can be used in the living room to add almost unlimited light. The amount of light can be easily and conveniently adjusted with dimmers to suit each task of the day. An unobtrusive and easy-to-implement, dimmable light fixture for the living room is LIMENTE LED-UP.
Bedroom
A dimmable light is an excellent choice for the bedroom. An efficient working light is rarely needed, but the amount of light still has to be appropriate for the day's chores. It might also be desirable to dim the lights as much as possible during dusk and dark hours. A beautiful dimmable light is easy to implement in the bedroom with LIMENTE LED-DUO. LED-DUO is a profile light fixture that projects light up and down, or both at the same time. You can use the profile light fixture as an indirect general light or as a reading light. For general lighting in the bedroom, you can use LIMENTE LED-DRI light fixtures, for example.
. . .
The right atmosphere for every space
Dimmable light sources are suitable for any space, from the kitchen to the bathroom! Dimming makes lighting more versatile.
VIDEO Limente Led-Duo - dimming