There are many things to consider when designing a kitchen. Sockets may not be the first in your thoughts or design list. However, don't ignore the sockets as the required number of them in the kitchen ensures that the various electrical appliances are easy to use and that the whole kitchen works efficiently.
In the kitchen, electricity is needed for various small machines every day. A kettle, coffee maker, toaster and many other small appliances won't work without it. The kitchen is also nowadays more and more a gathering place where phones and tablets are used and they need a place to charge. Charging all these small appliances is also convenient in the kitchen, so you need a few more sockets for them. This is why you should make sure the kitchen has enough plugs for all of these.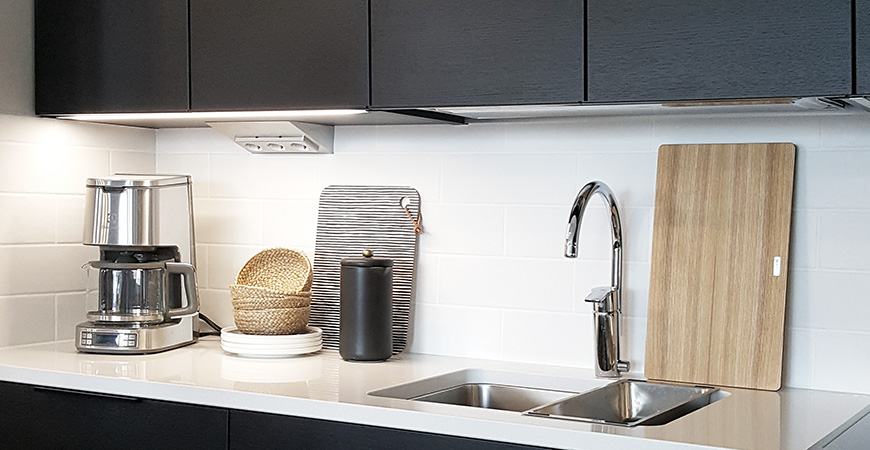 Choose the sockets wisely and make sure you have enough plugs
In construction and renovation sites, kitchen sockets should be taken into account at the latest when designing the lighting, so that electricity can be brought to the right place when making walls. In good time before making kitchen or lighting plans, think about what all the appliances are used in the kitchen and whether they will be used at the same time. Often the absence of sockets is noticed too late, only when an empty plug is not found or it's not exactly where it's needed.
It is usually not possible to add sockets afterwards without new electrical work. If you found that there are not enough sockets, you can replace the existing one by a multi-socket or another socket can be installed next to it. This provides more of the additional plugs needed. However, changing the outlet always requires the help of an electrician.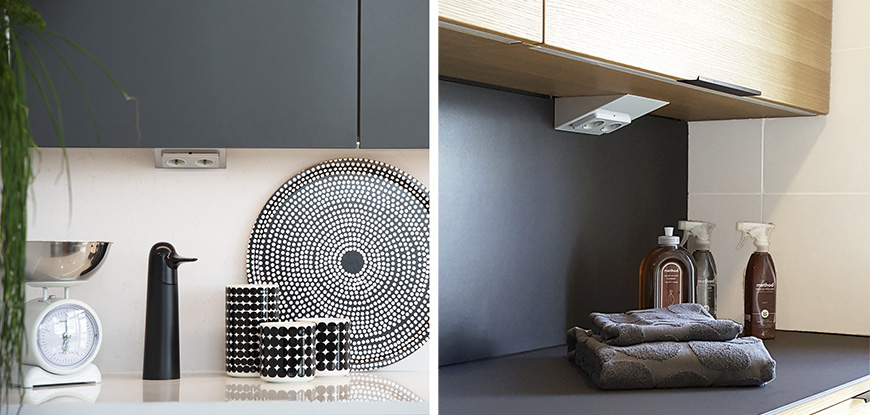 Sockets under the upper kitchen cabinets
The kitchen workspace under the upper kitchen cabinets is the traditional place where the sockets are placed. That is also very user-friendly place for them as there the sockets are conveniently at hand and close to electrical appliances. The bottom of the top cabinet is a good place to place the sockets so they are not that visible and they can easily be matched with the other colours in the kitchen. Read more about Limente Mini-2 and Mini-3 sockets.
Limente Mini-2 USB sockets are also installable under cabinets and in addition to the regular plugs this model has also USB plugs. With an USB socket, you can ensure that phones, tablets and other small devices can be conveniently charged even if the actual socket is already in use. Nowadays almost all this kinds of devices come with an USB charging cable.

Recessed sockets on the island
Recessed sockets are very convenient on the kitchen islands, where electricity is many times needed. This kinds of worktop sockets should always be covered and it is a good to have moisture protection, IP-class 44. If liquid is spilled on the worktop, the electrical components of the socket are protected in accordance with the IP44 protection. These features make flush-mounted sockets a stylish and useful solution for an island. Read more about Limente Desk-2.
You can also install a recessed socket under the cabinets above the worktop. This makes it easily accessible, for example, for a coffee machine or toaster. However, when using them, it is important to note that the cover of the plug must be opened whenever the socket is to be used. If you want an outlet that is immediately ready for use, eg for a whisk, kettle, etc., choose a socket that can be installed on the wall or under a cabinet, where the plugs are always on display.
Kitchen sockets - amount and placement
Place the sockets at both ends of the kitchen cabinets and in the center of the larger kitchen as well. This way, the plugs are most likely to be where they are most used. You should also prefer sockets that have at least two plugs to make sure you have a place for multible devices in one place.
The number of plugs in the kitchen should be minimum 4-6. Everybody has their own habits of using sockets. In some kitchens, the toaster and kettle are always ready for use and plugged in, while in others they are brought out when needed. The number of sockets affects how many plugs are reserved at one time. However, it is a good idea to have more than you usually need, as sometimes more are needed at once.
Entertaining cooking moments!
Checklist for choosing sockets
Keep sockets in mind at the kitchen design stage
prefer multi-socket outlets
remember USB sockets
plugs should be easily accessible and put where needed
if possible, choose both, open sockets and recessed sockets
you can also control the lighting with the socket to read more about Limente Luna-2 and Limente Luxa